Consumer Mobile Banking

Mobile Banking with Community Bank allows you to do your banking on the go - when it's convenient for you. To get started, simply download the Community Bank Mobile App for your mobile device.
Mobile Banking
Free convenient banking wherever you go!
View balances. Check your balances and view account history
Make transfers. Transfer funds between your account
Deposit checks. Simply take a picture of the front and back of your check, and we'll make the deposit for you
Pay bills. You set up the payees and simply decide how much and when to send the payment
Mobile Deposit
Save a trip to the bank or ATM. Deposit checks anytime, anywhere using the Community Bank Mobile App.
Free. Use our app to make free deposits
Convenient. Save a trip to the branch or ATM
Simple. Make a deposit with just a few taps and camera clicks
Secure. Rest assured it's as safe as online banking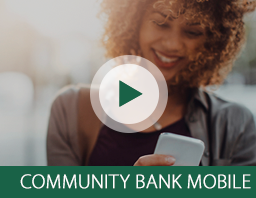 How do I enroll in Mobile Banking?
Mobile Banking is an additional feature of our Online Banking service. You will need to first enroll in Online Banking. Your username and password established in Online Banking is then used to access Mobile Banking.
Who can use the Community Bank Mobile App?
We have an app available for both consumers and business customers. Visit the Business Banking page for more information on the Business Mobile App.
What if I forget my password?
You can reset your password within Mobile Banking by selecting the Forgot Password option. Once you've updated your password in Mobile Banking, your Online Banking password will also be updated.
Does Mobile Banking allow me to perform the same transactions that are available within Online Banking?
Mobile Banking offers most of the same functionality as Online Banking; viewing account balances and transactions, making transfers and bill payments.
Can I sign in to Mobile Banking using Touch ID?
Yes. Our Mobile Banking app for the iPhone and Android devices allow you to quickly and easily sign in with Touch ID, which uses your phone's fingerprint recognition feature. If you prefer not to use Touch ID to access Mobile Banking, you can turn it off by selecting "More" in the lower right corner of your screen. You will then sign in with your username and password.
What is Facial Recognition and how does it work?
Face ID is a facial recognition feature built into compatible Apple devices. The facial recognition data registered on your device allows you to log in to the Mobile Banking App without needing to type in your User ID and Password.
Does Community Bank store my fingerprint or facial recognition data?
No. This information and data is stored on your phone and is not stored within the Community Bank App.
What happens if my mobile device is lost or stolen?
Log in to Online Banking and select Profile in the upper right corner of your screen. Then select Manage Mobile Devices and remove the lost or stolen device. For added security, you can report your lost or stolen device to Community Bank by calling 507-385-4444.
What security features are in place to protect my account information on my phone or tablet?
Mobile Banking leverages multiple layers of security, including password protection and the SSL (Secure Sockets Layer) communication protocol, which employs 256-bit encryption.
Can I deposit checks with mobile banking?
Yes. The mobile deposit feature allows you to deposit a check using your phone's camera.
Is there a fee for Mobile Deposit?
No. Mobile Deposit is a free service.
How does Mobile Deposit work?
Sign in to your CB Mobile App and follow these easy steps:
1. Select Deposit in the lower right corner of your screen
2. Select New mobile deposit
3. Select the account you want to deposit to
4. Enter the amount of the check
5. Take a photo of the front of the check and select 'use'
6. Take a photo of the back of the check and select 'use'
7. Hit next and confirm the deposit
8. Answer security question and continue

You'll receive a confirmation the deposit has been processed. If there are issues with the check or deposit amount, you'll receive a message providing details of how to proceed.
What kinds of checks can I deposit?
You can deposit checks that are in US Dollars. This includes personal or business checks, cashier's checks, money orders, and government checks. All checks you deposit must be payable to you.
What kinds of items cannot be deposited?
Savings bonds, International checks, and cash.
What is my daily limit for mobile deposits?
Each check you deposit is considered a single deposit. Single deposits are limited to $1,500. You can make multiple deposits on a daily basis up to $3,000 per day.
How should checks be endorsed?
Endorse the check and write CBM Mobile Deposit Only underneath your signature. Checks may be rejected if not endorsed this way.
What is the daily cut-off time for mobile deposits?
4:00 p.m. is the daily cut-off time for mobile deposits. Deposits made before 4:00 p.m. will post to your account by 6:00 p.m. on Mondays through Fridays. Mobile deposits made after 4:00 p.m. Friday and before 4:00 p.m. Monday will be posted to your account by 6:00 p.m. on Monday.
When there is a federal holiday, when will my mobile deposit be processed?
Deposits made on federal holidays are processed the following business day. This includes: New Year's Day, Martin Luther King Jr Day, President's Day, Memorial Day, Independence Day, Labor Day, Columbus Day, Veterans Day, Thanksgiving, and Christmas Day.
Can my deposit be rejected after the Mobile App accepts it?
If the deposit passes all the real time tests, it continues on for additional processing. Real time tests includes a clear image of the front and back of the check. Your deposit will initially have status of Pending upon submission. Your deposit may be rejected for reasons such as: improper endorsement, check not payable to account owner, or the item is not eligible for mobile deposit.
How will I know if my mobile deposit has been processed or rejected?
By monitoring the Deposit History, you can check your account history to confirm the deposit status has moved from Pending to Accepted.
After submitting a Mobile Deposit, what are the various stages of processing?
You will receive a message informing you of the status of your Mobile Deposit.
Pending – A status of Pending indicates the check has passed the initial test for clarity, duplication, deposit accuracy, and the deposit amount is within the deposit limits for your account. The bank is in the process of completing the review of the deposit.
Accepted – A status of Accepted indicates the bank has accepted the deposit and it has posted or is in the process of posting the deposit to your account.
Failed – A status of Failed indicates the bank has rejected the deposit for reasons beyond the normal clarity, duplication, deposit accuracy, or deposit limit. If a deposit is not accepted, please contact us at 507-385-4444.
When do funds from mobile deposits become available?
Funds are available after two business days. You will be notified if longer holds apply.
What should I do with the check after I've deposited it using mobile deposit?
Retain for 60 days. This allows time for processing. In the event the original check is required, you will be contacted by us.
Bill Pay FAQs
Do I need to set up Bill Pay on the website before using it on the Mobile App?
Yes, you must enroll in Bill Pay on the website before it will be available on the Mobile App.
Can I pay bills using the Mobile App?
Yes, you can make one time or recurring bill payments using the Mobile Banking app by tapping on the Payments options located at the bottom of your screen. For security purposes, you will be prompted to re-enter your password. Then you will be able to select various options to add new contacts, pay new or existing contacts, and review bill payment activity.
Can I update existing Bill Pay contacts from my Mobile App?
For security purposes, updates to contacts must be done by logging in to Online Banking and selecting Bill Pay.
When I pay a bill using the Mobile App, how are the funds sent?
You have the option to pay a person or company electronically, by paper check, or Zelle.
I'm trying to send a person a paper check, and the only option that is available is Zelle.
If this occurs, you'll need to log in to Online Banking and update the information you have on file for the person you are attempting to pay.
What are the Bill Pay Fees?
There is no fee for the first 15 bills that you pay each month. Bills paid in excess of 15 incur a $.50 fee per bill. Bills that are paid via electronic payment or paper check count toward the 15 items.
Where can I find more information about Bill Pay?
Go to Online Resources and select Bill Pay.